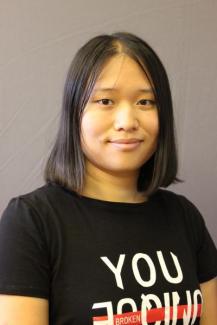 Department of Chemistry
University of Georgia
Chemistry Building, Room 400
Positron emission tomography (PET), a nuclear medicine technique, has been applied as an effective clinical tool to diagnose physiological metabolic process based on different functional radiotracers. Most commonly used radiotracer is [18F]Fluorodexyglucose ([18F]FDG), which plays an important role in PET imaging in oncology, cardiology and neurology.[1]18F is an unstable neutron-deficient isotope and can go through positron decay, during which 18F turns into 18O and emit one positron. After travelling a little distance, the positron and an electron colloid with each other and annihilate, giving off two gamma photons which fly in the opposite direction. By detecting these gamma photons, sinograms can be stored in computers and images indicating the location of [18F]FDG can be reconstructed.[2] A variety of radiotracers can be applied in PET based on different needs: [18F]FDG is used for tumor[3] or cardio[4] glucose uptake detection, while [18F]Fluoromisonidazole ([18F]FMISO) is utilized for hypoxia detection[5]. Other radioisotopes, such as 64Cu, 11C and 124I, are also developed into radiotracers for different metabolic process diagnosis or assessment[6]. Combining with computed tomography (PET/CT), this technique can not only offer more opportunities in diagnosis methods, but also help people to understand deeper mechanism behind physiological and pathological process.
References
1.    Hoh, C. K., Clinical use of FDG PET. Nuclear medicine and biology 2007, 34 (7), 737-742.
2.    Bailey, D. L.;  Maisey, M. N.;  Townsend, D. W.; Valk, P. E., Positron emission tomography. Springer: 2005; Vol. 2.
3.    Almuhaideb, A.;  Papathanasiou, N.; Bomanji, J., 18F-FDG PET/CT imaging in oncology. Annals of Saudi medicine 2011, 31 (1), 3-13.
4.    Ishida, Y.;  Yoshinaga, K.;  Miyagawa, M.;  Moroi, M.;  Kondoh, C.;  Kiso, K.; Kumita, S., Recommendations for 18 F-fluorodeoxyglucose positron emission tomography imaging for cardiac sarcoidosis: Japanese Society of Nuclear Cardiology recommendations. Annals of nuclear medicine 2014, 28 (4), 393-403.
5.   Francis, R. J.;  Segard, T.;  Morandeau, L.;  Lee, Y. G.;  Millward, M. J.;  Segal, A.; Nowak, A. K., Characterization of hypoxia in malignant pleural mesothelioma with FMISO PET-CT. Lung Cancer 2015, 90 (1), 55-60.
6.    Weber, M.;  Binse, I.;  Nagarajah, J.;  Bockisch, A.;  Herrmann, K.; Jentzen, W., The role of 124I PET/CT lesion dosimetry in differentiated thyroid cancer. The quarterly journal of nuclear medicine and molecular imaging: official publication of the Italian Association of Nuclear Medicine (AIMN)[and] the International Association of Radiopharmacology (IAR),[and] Section of the Society of... 2019, 63 (3), 235-252.