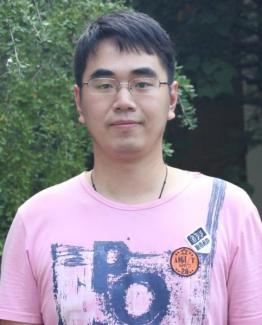 Graduate Student, Department of Chemistry
University of Georgia
ONLINE ONLY
Sulfur-fluoride exchange (SuFEx) reaction was first demonstrated by Sharpless and his co-workers1 in 2014. SuFEx is now considered as the second generation of click chemistry. It was established on the silicon centers, which can activate the exchange of S-F bonds for S-O bonds. A strong base, like triazabicyclodecene (TBD), was usually considered as the catalyst of SuFEx. Since then, we started to explore the possibility of the reaction between other heteroatom fluorides and silyl ethers. We found boron-fluoride (B-F) bonds are reactive as well. Boron-fluoride exchange reaction (BorFEx) was successfully developed. Difluoroborane (R-BF2), generated via in situ from trifluoroborates (R-BF3K), was able to react with bis silyl ethers and form stable cyclic boronic esters. Phenylene-1,4-bis(difluoroborane) was generated as a cross-linker between poly(ethylene-co-vinyl trimethylsilyl ether) (EVOTMS) polymer chains, which finally formed cyclic boronic esters cross-links. The gel can be accomplished in minutes because of the high reactivity. Cyclic boronic esters are able to undergo an exchange reaction2 with each other, such cross-linked polymer system with dynamic covalent bonds is called as vitrimer system. Vitrimer3 is nowadays a hot topic in polymeric research area. Thermosets usually have a better mechanical property and solvent, thermal resistance rather than thermoplastics. Conversely, thermoplastics have the recyclability to be deformed and processed multiple times. Dynamic covalent bonds are consisting into vitrimers, which gives it both malleability and desired physical properties. To form a cross-linked vitrimer, a long-time annealing at certain temperature for cross-linking reaction is usually essential. Therefore, using BorFEx to design a vitrimer with cyclic boronic esters on the backbone is an efficient way. Both great mechanical properties and reprocessability of this material has been proved. On the contrary, phosphorus-fluoride (P-F) bonds were surprisingly not as reactive as S-F and B-F. By analyzing the by-products of phosphorus fluoride exchange reactions, accidently, TBD was found to be a good catalyst of transesterification reaction between alkylphosphite and alcohol. Another vitrimer system was built on the top of the exchange reaction between diethylphosphite (DEP) and poly(ethylene-co-vinyl alcohol) (EVOH).
References:
1. Dong, J.; Krasnova, L.; Finn, M. G.; Sharpless, K. B., Sulfur(VI) Fluoride Exchange (SuFEx): Another Good Reaction for Click Chemistry. Angewandte Chemie International Edition 2014, 53 (36), 9430-9448.
2. Röttger, M.; Domenech, T.; van der Weegen, R.; Breuillac, A.; Nicolaÿ, R.; Leibler, L., High-performance vitrimers from commodity thermoplastics through dioxaborolane metathesis. Science 2017, 356 (6333), 62-65.
3. Montarnal, D.; Capelot, M.; Tournilhac, F.; Leibler, L., Silica-Like Malleable Materials from Permanent Organic Networks. Science 2011, 334 (6058), 965.