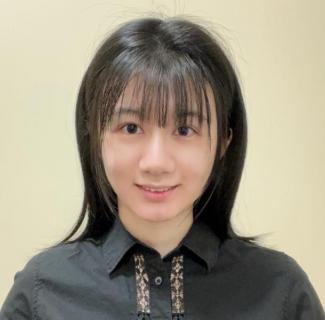 Graduate Student, Department of Chemistry
University of Georgia
Chemistry Building, Room 400
Alginate is a family of natural origin polysaccharides which could be utilized in hydrogel preparation at mild pH and physiological conditions. The hydrogel based on alginate performed particular relevance on wound dressing materials for the treatment of acute or chronic wounds due to the high water content, biocompatibility, flexibility, porosity, smoothness and ability to incorporate and release therapeutic agents. In this project, we designed a linker to achieve alginate gelation via SPAAC (strain-promoted azide-alkyne cycloaddition). The sodium salt of alginates was chemically modified with azide groups to prepare precursor polymers of Alg-azide (Alg-N3). A bis-azadibenzocyclooctyne (bisADIBO) was designed as a crosslinker for alginate gelation. Since Azadibenzocyclooctyne (ADIBO) shows high reactivity towards azides even at aqueous condition and it has long shelf life. The bis-ADIBO should enable the covalent, catalyst free crosslinking for Alg-N3 and maintain the biocompatibility at the same time.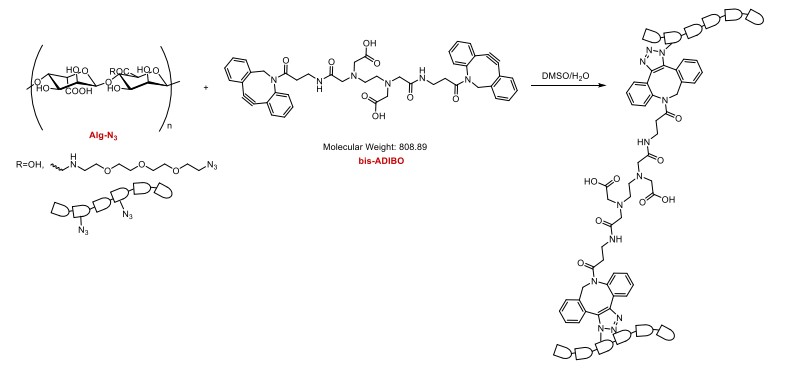 References
1. Pathak, R. K.; McNitt, C. D.; Popik, V. V.; Dhar, S., Copper-Free Click-Chemistry Platform to Functionalize Cisplatin Prodrugs. Chemistry – A European Journal 2014, 20 (23), 6861-6865.
2. Arumugam, S.;  Chin, J.;  Schirrmacher, R.;  Popik, V. V.; Kostikov, A. P., [18F]Azadibenzocyclooctyne ([18F]ADIBO): A biocompatible radioactive labeling synthon for peptides using catalyst free [3+2] cycloaddition. Bioorganic & Medicinal Chemistry Letters 2011, 21 (23), 6987-6991.
3. Chu, Y.;  Huang, L.;  Hao, W.;  Zhao, T.;  Zhao, H.;  Yang, W.;  Xie, X.;  Qian, L.;  Chen, Y.; Dai, J., Long-term stability, high strength, and 3D printable alginate hydrogel for cartilage tissue engineering application. Biomedical Materials 2021, 16 (6), 064102.
4. Sun, X.;  Ma, C.;  Gong, W.;  Ma, Y.;  Ding, Y.; Liu, L., Biological properties of sulfanilamide-loaded alginate hydrogel fibers based on ionic and chemical crosslinking for wound dressings. International Journal of Biological Macromolecules 2020, 157, 522-529.
5. Hu, C.;  Lu, W.;  Mata, A.;  Nishinari, K.; Fang, Y., Ions-induced gelation of alginate: Mechanisms and applications. International Journal of Biological Macromolecules 2021, 177, 578-588.
6. Mourão, C. A.;  Marcuz, C.;  Haupt, K.; Bueno, S. M. A., Polyacrylamide-alginate (PAAm-Alg) and phospho-L-tyrosine-linked PAAm-Alg monolithic cryogels: Purification of IgG from human serum. Journal of Chromatography B 2019, 1129, 121783.